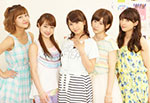 Hi-Fin (ハイ-ファン), formerly known as Plumeria, is a Japanese idol group formed in March 2013. It consists of 5 members from Morning Musume, °C-ute, and S/mileage.
Hi-Fin is part of Hello! Project and Satoumi Movement.
They are going to release their 1st single Kaigan Seisou Danshi (海岸清掃男子) on August 7, 2013 with Dia Lady and Mellow Quad.
Profile
Hi-Fin (ハイ-ファン)
Years active : 2013 – present
Label : –
Agency : Up Front Agency
Members
Nakajima Saki (中島早貴) (°C-ute)
Hagiwara Mai (萩原舞) (°C-ute)
Fukuda Kanon (福田花音) (S/mileage)
Ikuta Erina (生田衣梨奈) (Morning Musume)
Ishida Ayumi (石田亜佑美) (Morning Musume)
Discography
Singles
07/08/2013 : Lady Mermaid / Eiya-sa! Brother / Kaigan Seisou Danshi (レディーマーメイド / エイヤサ!ブラザー / (海岸清掃男子) (Dia Lady, Mellow Quad, Hi-Fin)
Albums
Links
News