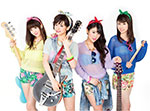 Hime Carat (姫carat), or Himecarat, is a Japanese idol rock band formed in July 2012.
It currently consists of 4 members.
Each member of the girl band plays an instrument.
The concept of the idol unit is that each girl is the incarnation of a fairy tale princess such as Snow White, Cinderella, Sleeping Beauty, Alice in Wonderland…
History
In July 2012, the 4 original members were Aoi Chiaki, Sato Misaki, Fuji Tsukimi, and Miki.
Hime Carat held their 1st live performance at Yoyogi Park on July 28, 2012.
Kinoshita Hinako joined the idol group in November 2012.
Hime Carat signed under Warner Music Japan label in the beginning of 2013.
Their major debut single 51% Platonic (51%プラトニック) was released in June 2013.
The documentary Princess Road was released in July 2013. It follows the members of the idol unit before their major debut.
Fuji Tsukimi announced her graduation in March 2014.
Profile
Hime Carat (姫carat)
Years active : 2012 – present
Label : Warner Music Japan
Agency : Sala Entertainment
Members
Nanako (渚奈子)
Kinoshita Hinako (木下ひなこ)
Aoi Chiaki (蒼井ちあき)
Sato Misaki (佐藤美咲)
Former Members
Miki
Fuji Tsukimi (藤井つきみ)
Discography
Singles
26/06/2013 : 51% Platonic (51%プラトニック)
27/11/2013 : Body Rockabilly (ボディ・ロカビリー)
18/06/2014 : Setsunakute Honoka ni Amai Destiny (切なくてほのかに甘い運命(デスティニー))
Albums
Links
News