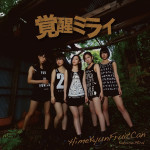 Hime Kyun Fruit Can's new single Kakusei Mirai (覚醒ミライ) will be on sale on September 9.
The MV is inspired by horror movies. A girl is chased by zombies and fighting against them. Young actress Saso Yuki is playing the leading role.
Hime Kyun Fruit Can perform another rock song.
The concept of the video is "a girl awakening".
It was directed by Kataoka Tsurutaro.
The members of the idol group from Ehime Prefecture are dancing in a warehouse.
The limited edition comes with a bonus DVD featuring the long version of the MV and its making-of.
In September, this tune will be the ending theme for the show Tokui to Goto to Uruwashi no Shelly ga Konya Kurabetemimashita (徳井と後藤と麗しのSHELLYが今夜くらべてみました) airing on NTV (Nippon Television).
Furthermore, Hime Kyun Fruit Can are going to celebrate their 5th anniversary by holding live performances on August 27-28 at Tsutaya O-East, Tokyo.
Tracklist
Regular Edition

CD

Kakusei Mirai (覚醒ミライ)
Wordless (ワードレス)
Ao no Shounen (青の少年)
Limited Edition

CD

Kakusei Mirai
Wordless
Boku ga Boku de Aru Koto (僕がぼくであること)

DVD

Kakusei Mirai (Music Video)
Making-of
Music Video (PV)