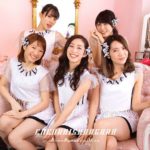 Hime Kyun Fruit Can released their 8th single Kokoro Tsunagaru (ココロツナガル). It went on sale on March 8.
You can watch the MV below.
The song Kokoro Tsunagaru is the new opening theme song for the anime series Pikaia! (ピカイア!) broadcast on NHK.
The song Nie²Bye² is the ending theme song of the same anime series.
This single is available in regular and limited editions.
The limited edition CD contains an additional song. The DVD contains the clip and video choreography of the song Nie²Bye².
Tracklist
Regular Edition

CD

Kokoro Tsunagaru (ココロツナガル)
Nie²Bye² (ナイツーバイバイ)
Kokoro Tsunagaru (Karaoke)
Nie²Bye² (Karaoke)
Limited Edition

CD

Kokoro Tsunagaru (ココロツナガル)
Nie²Bye² (ナイツーバイバイ)
Pray for the NewWorld
Kokoro Tsunagaru (Karaoke)
Nie²Bye² (Karaoke)

DVD

Kokoro Tsunagaru (Music Video)
Nie²Bye² (Choreography video)
Music Video (PV)