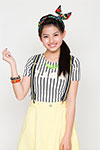 Miyazaki Hina joined Prizmmy☆ as a new member.
Hina was previously part of Prism☆Mates.
She replaces Sema Ayami who graduated from the idol unit on March 30.
The new generation of Prizmmy☆ will be introduced on April 5 on the episode of the anime Pretty Rhythm All Star Selection (プリティーリズム・オールスターセレクション).
They will hold their 1st live performance together on April 22 at Akiba Cultures Theater in Tokyo.