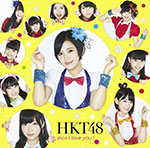 HKT48's 4th single Hikaeme I Love You! (控えめI love you !) will be released on September 24.
The list of the Senbatsu members has been announced. The center is Kodama Haruka.
The short version of the MV, the covers and the track listing have also been unveiled.
Senbatsu members
Team H: Anai Chihiro, Kodama Haruka, Kojina Yui, Sashihara Rino, Tashima Meru, Tanaka Miku, Matsuoka Natsumi, Yabuki Nako, Yamamoto Mao
Team KIV: Ota Aika, Tomonaga Mio, Kimoto Kanon, Miyawaki Sakura, Motomura Aoi, Moriyasu MadokaKenkyuusei: Kurihara Sae
The announcement was made on August 3 during a handshake event held for HKT48's previous single Sakura, Minna de Tabeta (桜、みんなで食べた) at Marine Messe Fukuoka convention center.
Each CD contains 3 songs.
The single comes with a DVD featuring different MV and bonus footage depending on the edition.
Tracklist
Type A

CD

Hikaeme I Love You! (控えめI love you !)
Ima Kimi wo Omou (今 君を想う)
Idol no Ouja (アイドルの王者) / HKT48 Team H
Hikaeme I Love You! (Instrumental)
Ima Kimi wo Omou (Instrumental)
Idol no Ouja (Instrumental)

DVD

Hikaeme I Love You! (Music Video)
Idol no Ouja (Music Video)
HKT48 Kyushu 7 Ken Tour Gotouchi Report (Oita, Miyazaki, Kumamoto) (HKT48 九州7県ツアー ご当地レポ(大分・宮崎・熊本))
Type B

CD

Hikaeme I Love You! (控えめI love you !)
Ima Kimi wo Omou (今 君を想う)
Natsu no Mae (夏の前) / HKT48 Team KIV
Hikaeme I Love You! (Instrumental)
Ima Kimi wo Omou (Instrumental)
Natsu no Mae (Instrumental)

DVD

Hikaeme I Love You! (Music Video)
Natsu no Mae (Music Video)
HKT48 Kyushu 7 Ken Tour Gotouchi Report (Kagoshima, Saga, Nagasaki) (HKT48 九州7県ツアー ご当地レポ(鹿児島・佐賀・長崎))
Type C

CD

Hikaeme I Love You! (控えめI love you !)
Ima Kimi wo Omou (今 君を想う)
Namaiki Lips (生意気リップス) / Nakomiku (なこみく)
Hikaeme I Love You! (Instrumental)
Ima Kimi wo Omou (Instrumental)
Namaiki Lips (Instrumental)

DVD

Hikaeme I Love You! (Music Video)
Namaiki Lips (Music Video)
HKT48 "Susume! Mentai Gou! Chotto Gouka Kyakusen Kashikiri Senjou Party" (進め!めんたい号!ちょっと豪華客船 貸切り船上パーティー)
Theater version

CD

Hikaeme I Love You! (控えめI love you !)
Ima Kimi wo Omou (今 君を想う)
Watashi wa Blueberry Pie (私はブルーベリーパイ) / Blueberry Pie (ブルーベリーパイ)
Hikaeme I Love You! (Instrumental)
Ima Kimi wo Omou (Instrumental)
Watashi wa Blueberry Pie (Instrumental)
Music Video (PV)