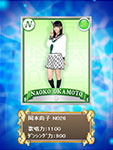 The video game HKT48 Eikou no Labyrinth (HKT48 栄光のラビリンス) has started on September 1.
HKT48 Eikou no Labyrinth is a RPG card game. The aim is to adventure around a fantasy world with the members of HKT48 and to complete some quests. Each girl has different skills and abilities.
The video game is available on smartphone and feature phone for free. However it is only in Japanese.
A gallery with the pictures of the cards of all members including Sashihara Rino has been posted.
HKT48's new single Melon Juice (メロンジュース) is the tie-up song for the game. It will go on sale on September 4.