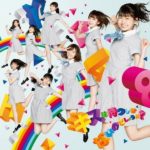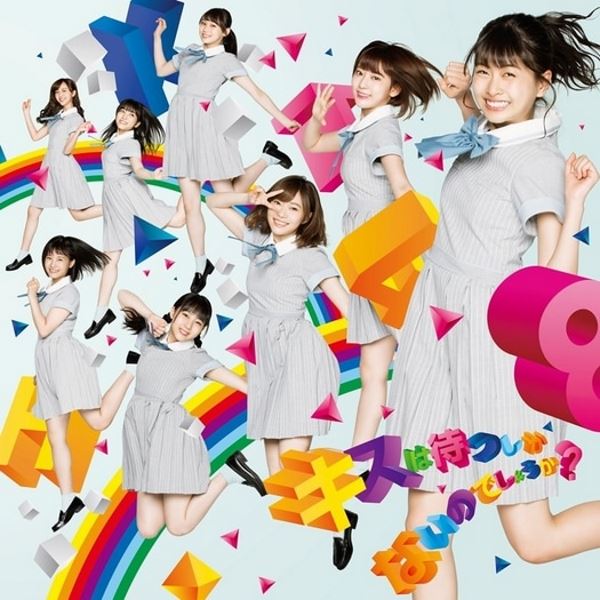 HKT48 released their new single Kiss wa Matsu Shikanai no Deshou ka? (キスは待つしかないのでしょうか?) on August 2.
This is 10th single of HKT48.
Check out the music videos below!
Matsuoka Hana holds the center position in the main song.
The selected members (senbatsu) for this single are : Kodama Haruka, Sashihara Rino, Tashima Meru, Tanaka Miku, Matsuoka Natsumi, Yabuki Nako, Tomiyoshi Asuka, Tomonaga Mio, Fuchigami Mai, Miyawaki Sakura, Motomura Aoi, Moriyasu Madoka, Sakamoto Erena, Matsuoka Hana, Tsukiashi Amane and Toyonaga Aki.
The HKT48 4th génération performs the B-side song Sakuranbo wo Musuberuka?.
Several editions are available.
Tracklist
Type A

CD

Kiss wa Matsushikanai no Deshou ka? (キスは待つしかないのでしょうか?)
Sakuranbo wo Musuberuka? (さくらんぼを結べるか?)
Tonari no Kare wa Kakko Yoku Mieru (隣の彼はカッコよく見える) (Platinum Girls)
Kiss wa Matsushikanai no Deshou ka? (off vocal ver)
Sakuranbo wo Musuberuka? (off vocal ver)
Tonari no Kare wa Kakko Yoku Mieru (off vocal ver)

DVD

Kiss wa Matsushikanai no Deshou ka? (Music Video)
Tonari no Kare wa Kakko Yoku Mieru (Music Video)
Adult manners course & Great Thanksgiving festival vol. 1
Type B

CD

Kiss wa Matsushikanai no Deshou ka? (キスは待つしかないのでしょうか?)
Sakuranbo wo Musuberuka? (さくらんぼを結べるか?)
Gunyatto Magatta (ぐにゃっと曲がった) (Diamond Girls)
Kiss wa Matsushikanai no Deshou ka? (off vocal ver)
Sakuranbo wo Musuberuka? (off vocal ver)
Gunyatto Magatta (off vocal ver)

DVD

Kiss wa Matsushikanai no Deshou ka? (Music Video)
Gunyatto Magatta (Music Video)
Adult manners course & Great Thanksgiving festival vol. 2
Type C

CD

Kiss wa Matsushikanai no Deshou ka? (キスは待つしかないのでしょうか?)
Sakuranbo wo Musuberuka? (さくらんぼを結べるか?)
Koisuru Ribbon! (恋するRibbon!) (Murashige Senbatsu)
Kiss wa Matsushikanai no Deshou ka? (off vocal ver)
Sakuranbo wo Musuberuka? (off vocal ver)
Koisuru Ribbon! (off vocal ver)

DVD

Kiss wa Matsushikanai no Deshou ka? (Music Video)
Sakuranbo wo Musuberuka? (Music Video)
Adult manners course & Great Thanksgiving festival vol. 3
Theater Edition

CD

Kiss wa Matsushikanai no Deshou ka?
Sakuranbo wo Musuberuka?
Romantic Byou
Kiss wa Matsushikanai no Deshou ka? (off vocal ver)
Sakuranbo wo Musuberuka? (off vocal ver)
Romantic Byou (off vocal ver)
Music Video (PV)