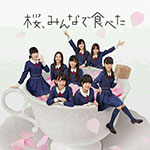 HKT48's 3rd single Sakura, Minna de Tabeta (桜、みんなで食べた) will be released on March 12.
The tracklist, the MV and the covers of Sakura, Minna de Tabeta have been revealed.
The list of the 16 Senbatsu members on this single has also been unveiled. The centers are Tashima Meru and Tomonaga Mio.
The Senbatsu members are :
Team H : Anai Chihiro, Kodama Haruka, Sashihara Rino, Nakanishi Chiyori, Matsuoka Natsumi, Akiyoshi Yuka, Tashima Meru
Team KIV : Ota Aika, Miyawaki Sakura, Murashige Anna, Motomura Aoi, Moriyasu Madoka, Fuchigami Mai, Tomonaga Mio
Kenkyuusei : Tanaka Miku, Yabuki Nako
The song was performed for the first time on stage on February 8 during the concert HKT48 Kyushu 7 Prefecture Tour ~Kawaii Ko ni wa Tabi wo Saseyo~ (HKT48 九州7県ツアー~可愛い子には旅をさせよ~) in Nagoya.
Each CD contains 3 songs and their instrumental versions. The coupling songs are performed by HKT48 Team H, Team KIV or Kenkyuusei depending on the edition.
Sakura, Minna de Tabeta includes a DVD with music videos and bonus footage.
The MV tells how members of HKT48 are enjoying every day through the "school Esper" to become a "Esper" full-fledged, their life with a smile, but still clumsy with each other or showing off the good of supranatural power in high school.
Also, jacket pictures of Sakura, Minna de Tabeta were published at the same time. Members are sitting on the edge of a teacup and doing very cute things in the world of Esper.
Tracklist
Type A

CD

Sakura, Minna de Tabeta (桜、みんなで食べた)
Kimi wa Doushite? (君はどうして?)
Kidoku Through (既読スルー) (Team H)
Sakura, Minna de Tabeta (桜、みんなで食べた) (Instrumental)
Kimi wa Doushite? (君はどうして?) (Instrumental)
Kidoku Through (既読スルー) (Instrumental)

DVD

Sakura, Minna de Tabeta (桜、みんなで食べた) (Music Video)
Kidoku Through (既読スルー) (Team H) (Music Video)
HKT48 Melon Juice Release Event Bowling Tournament Part 1 (HKT48メロンジュース発売記念 大ボウリング大会 前編)
Type B

CD

Sakura, Minna de Tabeta (桜、みんなで食べた)
Kimi wa Doushite? (君はどうして?)
Mukashi no Kareshi no Oniichan to Tsukiau to Iu Koto (昔の彼氏のお兄ちゃんとつき合うということ) (Team KIV)
Sakura, Minna de Tabeta (桜、みんなで食べた) (Instrumental)
Kimi wa Doushite? (君はどうして?) (Instrumental)
Mukashi no Kareshi no Oniichan to Tsukiau to Iu Koto (昔の彼氏のお兄ちゃんとつき合うということ) (Instrumental)

DVD

Sakura, Minna de Tabeta (桜、みんなで食べた) (Music Video)
Mukashi no Kareshi no Oniichan to Tsukiau to Iu Koto (昔の彼氏のお兄ちゃんとつき合うということ) (Team KIV) (Music Video)
HKT48 Melon Juice Release Event Bowling Tournament Part 2 (HKT48メロンジュース発売記念 大ボウリング大会 後編)
Type C

CD

Sakura, Minna de Tabeta (桜、みんなで食べた)
Kimi wa Doushite? (君はどうして?)
Oboete Kudasai (覚えてください) (Kenkyuusei)
Sakura, Minna de Tabeta (桜、みんなで食べた) (Instrumental)
Kimi wa Doushite? (君はどうして?) (Instrumental)
Oboete Kudasai (覚えてください) (Instrumental)

DVD

Sakura, Minna de Tabeta (桜、みんなで食べた) (Music Video)
Oboete Kudasai (覚えてください) (Kenkyuusei) (Music Video)
HKT48 3rd Generation and Draft Members 1st National Handshake Event (HKT48 3期生&ドラフト生 はじめての全国握手会)
Music Video (PV)