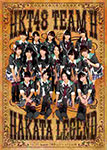 HKT48 Team H Hakata Legend (博多レジェンド) will be released on DVD on January 9.
The stage is performed at HKT48 Theater in Fukuoka since March 1, 2013. 15 members of HKT48 and some Kenkyuusei participated in the live performance.
Hakata Legend includes HKT48's singles Suki! Suki! Skip! (スキ!スキ!スキップ!) and Melon Juice (メロンジュース). It includes also the version of AKB48's hit song Kimi no Koto ga Suki Dakara (君のことが好きだから) sung in Hakata dialect.
It was HKT48 Team H 1st Waiting Stage.
This DVD is only on sale at HKT48 Theater and at AKB48 Café and Shops.
Setlist
overture (HKT48 ver.)
HKT48
Kimi no Koto ga Suki Yaken (君のことが好きやけん)
Boyfriend no Tsukurikata (ボーイフレンドの作り方)
Hatsukoi Butterfly (初恋バタフライ)
Glass no I Love You (ガラスの I Love You) (Ueki Nao, Kodama Haruka, Motomura Aoi, Miyawaki Sakura)
Seifuku Resistance (制服レジスタンス) (Kumazawa Serina, Sashihara Rino, Tanaka Natsumi)
Heart Gata Virus (ハート型ウイルス) (Anai Chihiro, Ota Aika, Wakatabe Haruka)
Kinjirareta Futari (禁じられた2人) (Matsuoka Natsumi, Moriyasu Madoka)
Tengoku Yarou (天国野郎) (Shimono Yuki, Nakanishi Chiyori, Murashige Anna, Okada Kanna)
Seifuku no Bambi (制服のバンビ) (Kodama Haruka, Sashihara Rino, Miyawaki Sakura)
Enkyori Poster (遠距離ポスター) (Anai Chihiro, Ueki Naoi, Ota Aika, Matsuoka Natsumi, Moriyasu Madoka, Motomura Aoi, Wakatabe Haruka)
Two Years Later
Kaiyuugyo no Capacity (回遊魚のキャパシティ)
Siam Neko (シャムネコ)
Oogoe Diamond (大声ダイヤモンド)
Mira no Tobira (未来の扉)
Aitakatta (会いたかった)
Suki! Suki! Skip! (スキ!スキ!スキップ!)
Melon Juice (メロンジュース)
Shiroi Shirts (白いシャツ)