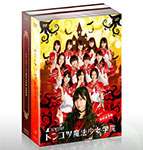 The variety show HKT48 Tonkotsu Mahou Shoujo Gakuin (HKT48 トンコツ魔法少女学院) hosted by Sashihara Rino and the members of HKT48 will be released on DVD on June 20.
On this TV show, the members of the idol group from Fukuoka receive entertainment personalities as guests, and face various challenges.
The concept is that the girls are students in a magic school.
The program was broadcast from July to September 2013 on NTV (日本テレビ, Nippon Television).
The DVD box includes the 12 episodes of HKT48 Tonkotsu Mahou Shoujo Gakuin and a booklet.
The limited edition comes with a bonus disc featuring making-of, Tanaka Natsumi's birthday party, etc. It includes 3 photos randomly selected.