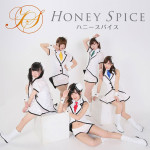 Honey Spice (ハニースパイス) is a Japanese idol group formed in 2012.
It currently consists of 4 members. Each one has been assigned a color.
Biography / History
The idol unit is based in Tokyo.
The girls perform trance and electro dance music.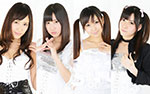 Honey Spice were created in October 2012. The 1st generation members were Yoshizawa Nanami, Natsume Yuki, Tachibana Arika and Shiraishi Yuno.
They made their live debut in October 2012.
Their 1st single Jump!! was released in February 2013.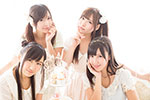 Natsume Yuki graduated in March 2013.
Matsumoto Akina joined the idol unit at the same time.
Honey Spice 1st one-man live was held in October 2013. This event celebrated their 1st anniversary.
Tachibana Arika was a finalist of the Japanese contest for Miss World 2014 (ミス・ワールド2014日本代表) contest.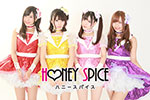 Honey Spice's 4th single Renai Emergency (恋愛Emergency) reached the 4th rank on Oricon daily chart in January 2014.
Sugaya Saki was recruited in September 2014.
Yoshizawa Nanami left the idol group in October 2014.
Tachibana Arika, Shiraishi Yuno and Matsumoto Akina announced their graduation in April 2015. However, Tachibana Arika changed of mind and decided to pursue her activities with Honey Spice.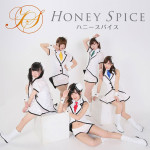 Ito Saori, Yamashita Yuna and Hirano Honoka were recruited as new members in May 2015.
Honey Spice participated in Hyper Japan Festival in London, United Kingdom, in July 2015.
Yamashita Yuna announced her graduation due to poor physical health in November 2015.
Profile
Honey Spice (ハニースパイス)
Years active : 2012 – present
Label : Geo Label
Agency : Geo
Members
Tachibana Arika (橘ありか) – Red
Sugaya Saki (菅谷さき) – Yellow
Ito Saori (伊藤里織) – Blue
Hirano Honoka (平野ほのか) – White
Former Members
Natsume Yuki (夏目ゆき)
Yoshizawa Nanami (吉沢七海) – Blue
Shiraishi Yuno (白石ゆの) – Pink
Matsumoto Akina (松本あきな) – Purple
Yamashita Yuna (山下ゆな) – Green
Discography
Singles
09/02/2013 : Jump!!!!
14/06/2013 : Sunflower
24/09/2013 : Happy
28/01/2014 : Renai Emergency (恋愛Emergency)
30/09/2015 : Kibou no Mirai (希望の未来)
Albums
Links
News