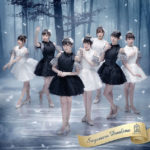 Houkago Princess will release their new Sayonara Dualina (さよならデュアリーナ) will be released on July 19.
This is the 6th single of Houkago Princess.
Check out the short version of the MV.
The members of Houkago Princess turned into ballet dancers. "Dualina" is a word that combines the words "Dual" (Double, Two) and "Ballerina", the theme of the song is "A girl with bipolar feelings".
In addition, the song opens the familiar melody of the famous ballet of Piotr Ilyich Tchaikovsky, Swan Lake, symbolizing Princess Odette/Odile. Maika is the main singer in the song.
The member, Michishige Saho, did not participate in the recording of the single; She has temporarily suspended her activities with the group in order to train iand mprove her voice performance.
10 versions are available, including one for each member of Houkago Princess.
The idol group will be holding a recital Princess Serenade ~My Song For You~ at TSUTAYA O-EAST on July 12 to commemorate the release of the single.
Tracklist
CD

Sayonara Dualina (さよならデュアリーナ)
Black or Whte
Sayonara Dualina (Instrumental)
Black or White (Instrumental)
DVD

Sayonara Dualina (Music Video)
Music Video (PV)