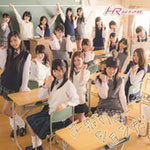 HR's new single Evolution Da (エボリューションだ) will be released on January 15.
This is the 4th single from HR (Hakata Reboot). 5 editions are available.
The MV has been released.
The limited editions come with a bonus DVD featuring the music video and bonus footage. The details haven't been announced yet.
The Type D edition includes the coupling song Seishun Lie La Night (青春Lie La Night) performed by HR's new sub-unit Splash Revolution (すぷらっしゅレボリューション).
The lyrics of Evolution Da (エボリューションだ) were written by HinataSpring, and the music composed by Watanabe Tooru.
The coupling track Shunshoku Generation (春色ジェネレーション) was written and composed by Arimura Tomonami.
Regular Edition / Type A – B – C
CD

Evolution Da (エボリューションだ)
Shunshoku Generation (春色ジェネレーション)
Evolution Da (エボリューションだ) (Instrumental)
Shunshoku Generation (春色ジェネレーション) (Instrumental)
Type D
CD

Evolution Da (エボリューションだ)
Seishun Lie La Night (青春Lie La Night) (Splash Revolution)
Evolution Da (エボリューションだ) (Instrumental)
Seishun Lie La Night (青春Lie La Night) (Instrumental) (Splash Revolution)
Music Video (PV)