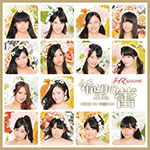 HR's new single Kibou no Tsubomi (希望の蕾) was released on September 24th.
This is the 5th single from HR (Hakara Reboot) and the first one from the local idol group for about 8 months.
The MV has been unveiled.
Kibou no Tsubomi has a cheerful melody. The song is about realizing your own dreams.
The lyrics of were written by Yamada Tomokazu. He also composed the music. It was arranged by Sumiya Shouhei.
The coupling song Yuuki no Ookami was written and composed by Arimura Tomonari.
The Type A edition comes with a bonus DVD featuring the music video and its making-of.
The Type B edition includes a solo song by Kume Chisato.
HR held several release events in late September.
Tracklist
Type A

CD

Kibou no Tsubomi (希望の蕾)
Yuuki no Ookami (勇気のオオカミ)
Kibou no Tsubomi (Instrumental)
Yuuki no Ookami (Instrumental)

DVD

Kibou no Tsubomi (Music Video)
Making-of (メイキング)
Type B

CD

Kibou no Tsubomi
Yuuki no Ookami
Kimagure Hold Me Tight (キマグレHold Me Tight) / Kume Chisato Solo
Kibou no Tsubomi (Instrumental)
Type C

CD

Kibou no Tsubomi
Yuuki no Ookami
Mentai Dance
Mentai Dance (Instrumental)
Music Video (PV)