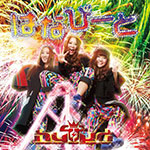 hy4_4yh will release their 16th single Hanabeat (はなびーと) on July 10.
The single contains 3 original songs.
The limited edition comes with a bonus DVD featuring live footage from Hyper Yoyo GIG Jikkyou Rokuonban (ハイパーヨーヨGIG実況録音盤) held on May 12, 2013.
The songs were arranged by Takano Mandokoro a.k.a. DJ Jet Baron.
Tracklist
CD

Hanabeat (はなびーと)
Tickeee Ondo (ティッケー音頭)
Sekai de Ichiban Kawaigatte Kureru Hito (世界で一番可愛がってくれる人)
DVD (Limited Edition)

Hyper Yoyo GIG Jikkyou Rokuonban (ハイパーヨーヨGIG実況録音盤) (2013/5/12 Joshikai GIG Yori)
Music Video (PV)