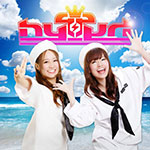 hy4_4yh's new single Tickeee on the Beach (ティッケー・オン・ザ・ビーチ) will be released on July 30.
This is the 18th single from hy4_4yh and the first one featuring only Yukarin and Chanyumi. It is a triple A-side.
The music video has been unveiled.
It is a summer song whose theme is the sea. On the cover, Yukarin and Chanyumi are wearing a sailor suit in front of the seaside.
Only one edition is available.
The CD contains 3 tracks including the Funkot version of the lead song.
hy4_4yh will hold several release events in various venues such as HMV, Tower Records… between late July and early August.
Tracklist
Tickeee on the Beach (ティッケー・オン・ザ・ビーチ)
Tickeee on the Beach (ティッケー・オン・ザ・ビーチ) (Funkot Ver.)
Mic Check no Uta 2014 (マイクチェックのうた 2014)
Music Video (PV)