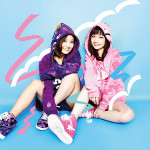 hy4_4yh is a Japanese idol group formed in 2005. They are also know as Hyper Yoyo (ハイパーヨーヨ).
It currently consists of 2 members : Yukarin and Yumiko.
The idol unit made its debut in Akihabara in Tokyo.
hy4_4yh perform a mix of pop, rock, punk and funk songs.
Biography / History
In May 2005, 5 girls who were participating in the musical Tokyo Mets (東京メッツ) decided to create a new unit called Otome5.
Furukawa Erika withdrew from Otome5 after their 1st live performance and was replaced by Imai Hitomi. The unit was renamed Yo_Yo in reference to the peace sign smiley.
Yo_Yo released their debut mini-album Yo Ban! (Yo盤!) in August 2005.
A few months later, Imai Hitomi left the band and it was renamed hy4_4yh.
Milano withdrew in October 2008.
hy4_4yh started working in collaboration with HMV in 2011.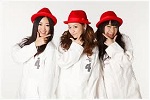 In March 2012, they released the single Kanzen Kouryaku (完全攻略) along with Negicco.
In March 2014, DJ Sadachi announced that she was going to study English in New York. She became an honorary support member of hy4_4yh.
In April 2014, hy4_4yh formed a special unit in collaboration with the female comedy duo Nippon Elekitel Rengou (日本エレキテル連合) to release the single Hyper Elekitel Rengou (ハイパーエレキテル連合).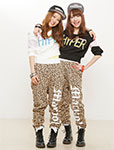 A 7-inch vinyl version of their single Taiyo to Issho (たいようといっしょ) was produced and remixed by DJ Michelle Sorry in September 2014.
Their 20th single Love Genome / Tengoku ⇔ Jigoku 2015 (Love Genome / 天国⇔地獄2015) , released in May 2015, is a double A-side featuring love songs.
In October 2015, the girls were the main characters of the HMV Happy Halloween campaign.
The idol group's 1st cover album Hyper Yo no Seishun J-Rap (ハイパヨ△の青春J-Rap), on sale in October 2015, includes songs originally performed by various Japanese rap artists such as Rhymester, RIP Slyme, Orange Range…
In May 2016, hy4_4yh collaborated with Punk Drunkers to create special T-shirts.
hy4_4yh's live performances are called GIG.
Profile
hy4_4yh (ハイパーヨーヨ, Hyper Yoyo)
Years active : 2005 – present
Label : The Label
Agency : The Label
Members
Yukarin (ユカリン) – Nakajima Yukari (中島由香利)
Chanyumi (チャンユミ) – Sakagoshi Yumiko (坂越由実子)
Honorary Support Member
Sadachi (佐達ちはる, Sadachi Chiharu)
Former Members
Milano (みらの) – Kamioka Mirano (神岡実羅乃)
Discography
Singles
03/05/2008 : Mimirara Mirai (ミミララ未来)
12/07/2008 : Katte ni Cinderella II (勝手にシンデレラII)
13/10/2008 : Taiyou to Issho (たいようといっしょ)
19/04/2009 : Sing Along (シンガロング)
26/07/2009 : Hummingbird (ハミングバード)
11/11/2009 : Oh! Seishun!! (Oh!青春!!)
18/04/2010 : Haru Uta (ハルウタ)
04/07/2010 : 444 no Kiseki (444のキセキ)
19/12/2010 : Speedy Wonder
22/02/2012 : U☆Chu
21/03/2012 : We ♡ OT
04/04/2012 : Yuke Yuke Go Go Onna no Ko!! (ゆけゆけGoGo女の子!!)
11/07/2012 : Beach Power
03/10/2012 : Tama Free!
04/04/2013 : Tickeee Daisakusen! ~Yavay~ / Hyper Tickeee Queen no Uta (ティッケー大作戦! ~Yavay~ / Hyper Tickeee Queenの歌)
10/07/2013 : Hanabeat (はなびーと)
30/07/2014 : Tickeee on the Beach (ティッケー・オン・ザ・ビーチ)
03/12/2014 : Yavay Japan 2020 / Oh! Sista
13/05/2015 : Love Genome / Tengoku ⇔ Jigoku 2015 (Love Genome / 天国⇔地獄2015)
Collaboration Singles
21/03/2012 : Kanzen Kouryaku (完全攻略) (Negicco × hy4_4yh)
23/04/2014 : Hyper Elekitel Rengou (ハイパーエレキテル連合) (hy4_4yh × Nippon Elekitel Rengou)
10/12/2014 : Bukubuku / xYOxx (ぶくぶく / xYOxx)
Albums
28/05/2006 : Hyper Yo Ban (ハイパーヨー盤)
07/01/2007 : Zoku Hyper Yo Ban (続ハイパーヨー盤)
05/08/2007 : Hyper Yo Ban 3 ~Natsu no Shou~ (ハイパーヨー盤3 ~夏の章)
23/11/2007 : Hyper Yo Ban 3 ~Fuyu no Shou~ (ハイパーヨー盤3 ~夏の章)
16/05/2012 : Hyper Yo Ban 4 (ハイパーヨー盤4)
29/01/2014 : Star☆ting
28/10/2015 : Hyper Yo no Seishun J-Rap (ハイパヨ△の青春J-Rap)
Links
News