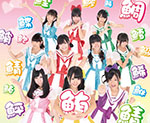 Idol Class, also known as Idol Kyoshitsu (アイドル教室), is a Japanese idol group formed in 2011.
It currently consists of 10 members. Each one of them has been assigned a color.
The unit is based in Nagoya in Aichi Prefecture.
In addition to their musical activities, the members of Idol Class work in a sushi restaurant. They hold live performances every Sunday.
Profile
Idol Class (アイドル教室, Idol Kyoshitsu)
Years active : 2011 – present
Label :
Agency : Live & Party 51
Members
Sato Asaki (佐藤明咲)
Aragaki Hikari (新垣ひかり)
Kamigawa Yukina (神川幸奈)
Aizawa Riko (愛沢りこ)
Mizuki Sayumi (水城さゆみ)
Terazawa Arisu (寺沢ありす)
Yamada Niina (山田新奈)
Momozawa Saki (桃沢さき)
Hori Rie (堀梨恵)
Azuma Hiyori (東ひより)
Discography
Singles
12/09/2012 : Ima Hajimaru Story (今はじまるストーリー)
28/08/2013 : Boku wa Kimi ni Koi wo Shita (僕は君に恋をした)
03/12/2013 : Happy Christmas -Da Da Da Daijou v- (ハッピークリスマス -だだだ大丈v-)
Albums
Links
News