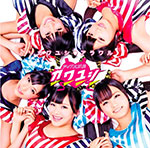 Idol Yokai Kawayushi's major debut single Kawayushi Arawaru (カワユシ♥アラワル) will be released on November 6.
Idol Yokai Kawayushi is a new idol unit consisting of members from Alice Project.
6 editions are available : one solo version for each member, and another one with the whole group. The member who gets the most versions pre-ordered will be the center for the upcoming live events.
The limited edition comes with a bonus DVD featuring the making-of.
Check out the live video.
The songs are written and composed by Maeyamada Kenichi, also known as Hyadain.
Regular Edition
CD

Kawayushi Arawaru (カワユシ アラワル)
Boku Dake no Megami (僕だけの女神)
Kawayushi Arawaru (カワユシ アラワル) (Instrumental)
Limited Edition
CD

Kawayushi Arawaru (カワユシ アラワル)
Boku Dake no Megami (僕だけの女神)
Kawayushi Arawaru (カワユシ アラワル) (Remix)
Kawayushi Arawaru (カワユシ アラワル) (Instrumental)
Boku Dake no Megami (僕だけの女神) (Instrumental)
DVD

Making-of (メンバー各5人の撮り下ろしイメージ・ビデオ+ジャケット撮影風景)
Video (Live)