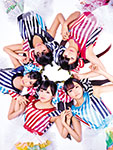 Idol Yokai Kawayushi (アイドル妖怪カワユシ) is a Japanese idol group formed in September 2013. It currently consists of 5 members.
Idol Yokai Kawayushi is part of Alice Project (アリスプロジェクト). The unit is a sister group of Alice Juban, Steamgirls, Oz, and Machikado Keiki Japan.
Kawamura Nanaka and Hayase Amu are also members of Alice Juban, whereas Kurose Sara belongs to Steamgirls, and Amaki Jun and Kuroki Hinako are part of Machikado Keiki Japan.
The girls participate in the sub-units Prism, Soup Girls, Cherry Blossom, White Milk, and Pa-Ken.
They perform regularly at P.A.R.M.S. Theater in Akihabara, Tokyo.
Idol Yokai Kawayushi made their major debut November 6, 2013 on under the label Warner Music Japan.
It was announced at the same time that the member who got the most versions pre-ordered of their 1st single would be the center for the upcoming live events. The winner was Kawamura Nanaka.
The producer is Kosaka Daimaou (古坂大魔王). The songs are written and composed by Maeyamada Kenichi (前山田健一), also known as Hyadain (ヒャダイン).
Profile
Idol Yokai Kawayushi (アイドル妖怪カワユシ)
Years active : 2013 – present
Label : Warner Music Japan
Agency : Kleeblatt
Members
Amaki Jun (天木じゅん)
Kawamura Nanaka (川村虹花)
Hayase Amu (早瀬愛夢)
Kuroki Hinako (黒木ひなこ)
Kurose Sara (黒瀬サラ)
Discography
Singles
06/11/2013 : Kawayushi Arawaru (カワユシ♥アラワル)
Albums
Links
News