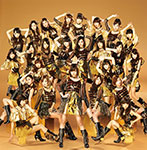 Idoling!!! 13th Live Shijou Saidai! 25-nin no Daisakusen-ng!!! Hare, Tokidoki Kami (アイドリング!!!13th Live 史上最大!25人の大作戦グ!!! 晴れ、時々神) will be released on Blu-ray on March 19.
The concert took place on December 8, 2013 at Nakano Sunplaza in Tokyo.
The Blu-ray includes 2 discs with the 2 live performances held on that day.
The 25 members of the unit participated in Idoling!!! 13th Live.
Endo Mai announced her graduation during this concert.
Moreover, Idoling!!!'s 5th album Gold Experience is on sale since January 8.
Setlist
Disc 1

Mamore!!!
Don't Think. Feel!!!
Megami no Pulse (女神のパルス)
Sentou Renai Shoujo Robo B Gata no Yuuutsu (戦闘恋愛少女ロボB型の憂鬱)
Promise
Akogare Adoration (あこがれアドレイション)
Bakarythm Solo (バカリズムソロ)
Shout!!! (シャウト!!!)
mero mero
I'd Ring
Mune Atsu Seitan-sai!!! (胸アツ生誕祭!!!)
Medley (メドレー)

Koi no 20 Rensa!! (恋の20連鎖!!)
Shine On
Snow Celebration
Go East!!! Go West!!!
Caramel Latte Nomi Ikou (キャラメルラテ飲み行こー)
U
Yarakai Heart (やらかいはぁと)

Summer Lionサマーライオン
– Encore –
I no Standard (Iのスタンダード)
One Up!!!
Shokugyou : Idol 「職業:アイドル。」
Disc 2

Mamore!!!
Don't Think. Feel!!!
Megami no Pulse (女神のパルス)
Bon Voyage!
Kaniko (カニ子)
Namida no Freezer (涙のフリージア)
Bakarythm Solo (バカリズムソロ)
mero mero
Shout!!! (シャウト!!!)
Ne Otome Xmas Night (寝乙女X'mas Night)
Only One
Medley (メドレー)

Koi no 20 Rensa!! (恋の20連鎖!!)
Shine On
Snow Celebration
Go East!!! Go West!!!
12-5. キャラメルラテ飲み行こー
U
Yarakai Heart (やらかいはぁと)

Summer Lion (サマーライオン)
– Encore –
I no Standard (Iのスタンダード)
One Up!!! (フリーver)
Sakura Thank You (さくらサンキュー)
Shokugyou : Idol 「職業:アイドル。」