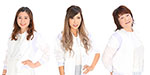 3 new members joined Idoling!!! on June 5. They are part of the 7th generation of the idol group.
This news is quite surprising because the graduation of Idoling!!! is scheduled in October.
Moreover, they are sisters and mother of current members.
Asahi Runa (#36) is the younger sister of Asahi Nao (#15).
Hashimoto Natsuki (#37) is the elder sister of Hashimoto Kaede (#21) and Hashimoto Ruka (#33).
Sakai Yoshiko (#38) is the mother of Sakai Hitomi (#14). She is 53 years old.
This announcement was made during Idoling!!! show on Fuji TV.