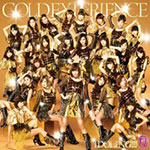 Idoling!!! will release their new album Gold Experience on January 8.
This is the 5th album from Idoling!!!. The CD contains 17 songs including their latest singles. 3 editions are available.
The list of the members and the sub-units performing on Gold Experience has been revealed.
The limited editions come either with a DVD or a Blu-ray featuring music videos and bonus footage. The details haven't been announced yet.
Futhermore, Endo Mai announced her graduation from Idoling!!!. She will quit the unit on February 14.
Their latest singles Shout!!! (シャウト!!!) and mero mero are on sale since November 13.
The Blu-ray Tokyo Idol Festival 2013 feat. Idoling!!! will be released on January 15.
Sub-units and members
梅酒 -Ume/Liquor- : Kawamura Yui, Sakai Hitomi
Kani Seven (カニSeven) : Kawamura Yui, Nagano Serina, Miyake Hitomi, Kurata Ruka, Ojima Chika, Kiyoku Reia, Sekiya Mayu
B Gata Ω Idoling!!! (B型Ωアイドリング!!!) : Nagano Serina, Asahi Nao, Kikuchi Ami, Goto Kaoru, Ojima Chika
U-17ing!!! : Hashimoto Kaede, Kurata Ruka, Takahashi Kurumi, Ishida Karen, Tamagawa Ramu, Kiyoku Reia, Furuhashi Mayu, Hashimoto Ruka, Sato Rena, Sato Michaela Shizuko
Peace! Idoling!!! (Peace!アイドリング!!!) : Endo Mai, Tonooka Erica, Yokoyama Rurika, Kawamura Yui, Nagano Serina, Sakai Hitomi, Asahi Nao, Kikuchi Ami, Miyake Hitomi, Tachibana Yurika, Okawa Ai, Ojima Chika
Nakimushi!? Idoling!!! (泣き虫!?アイドリング!!!) : Asahi Nao, Kikuchi Ami, Okawa Ai, Tamagawa Ramu
Idoling Neo (アイドリングNeo) : Ito Yuna, Goto Kaoru, Furuhashi Mayu, Sekiya Mayu, Hashimoto Ruka, Sato Rena, Sato Michaela Shizuko
Shittori

♫

Idoling!!! (しっとり

♫

アイドリング!!!) : Endo Mai, Tonooka Erica, Yokoyama Rurika, Miyake Hitomi, Tachibana Yurika, Ito Yuna, Furuhashi Mayu, Sekiya Mayu
Tracklist
CD

Shokugyou : Idol (「職業:アイドル。」) (25idoling Ver.)
Mamore!!! (25idoling Ver.)
Ichigo Gyuunyuu (苺牛乳) (25idoling Ver.)
Akogare Idolation (あこがれアイドレイション) / 梅酒 -Ume/Liquor-
Kaniko (カニ子) / Kani Seven
Sentou Renai Shoujo Roba B Gata no Yuuutsu (戦闘恋愛少女ロボB型の憂鬱) / B Gata Ω Idoling!!!
Bon Voyage! / U-17ing!!!
Sakura Thank You (さくらサンキュー) (25idoling Ver.)
Natsu no Otousan (夏のお嬢さん) / Peace! Idoling!!!
Namida no Freesia (涙のフリージア) / Nakimushi!? Idoling!!!
Samui Yoru Dakara… (寒い夜だから…)
Pre Kyun Survival (プリ♥きゅんサバイバル) / Idoling Neo
One Up!!! (25idoling Ver.)
Promise / Shittori ♫ Idoling!!!
Don't Think. Feel!!! (25idoling Ver.)
I no Standard 2014 (Iのスタンダード 2014)
Shine On