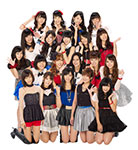 Idoling!!! will release their live Blu-ray Idoling!!! Nishi e! Higashi e!! Mystery Tour ng!!! 2013 (アイドリング!!! 西へ! 東へ!! ミステリィツアーング!!! 2013) on September 18.
The concert was recorded on June 1, 2013 at Zepp DiverCity in Tokyo.
This blu-ray edition includes 2 discs featuring the 2 live performances held on that day in the afternoon and in the evening.
Setlist (1st Stage)
Sakura Thank You (さくらサンキュー)
Ichigo Gyuunyuu (苺牛乳)
Megami no Pulse (女神のパルス)
Bakkyun! (バッキューン!)
Go East!!! Go West!!!
Voice
Stay with Me
Poolside Daisakusen (プールサイド大作戦)
Mujouken Koufuku (無条件☆幸福)
Walk my Way (Yokoyama Rurika)
Hyakka Ryouran Idoling!!! (百花繚乱アイドリング!!!)
Ganbare Otome (Warai) (ガンバレ乙女(笑))
Koi no 20 Rensa!! (恋の20連鎖!!)
Dance Block (Danceブロック)
Ez Do Dance
Yarakai Heart (やらかいはぁと)
I no Standard (Iのスタンダード)
Like a Shooting Star
– Encore –
Don't Think. Feel!!!
Shokugyou: Idol (「職業:アイドル。」)
Friend
Setlist (2nd Stage)
Sakura Thank You (さくらサンキュー)
Ichigo Gyuunyuu (苺牛乳)
Megami no Pulse (女神のパルス)
Bakkyun! (バッキューン!)
Go East!!! Go West!!!
Walk my Way (Yokoyama Rurika)
Voice
S.O.W. Sense of Wonder (S.O.W. センスオブワンダー)
Mujouken Koufuku (無条件☆幸福)
Koi no 20 Rensa!! (恋の20連鎖!!)
Dance Block (Danceブロック)
Ez Do Dance
Kokuhaku (告白)
Eve
Rainy Girl (レイニィガール)
I no Standard (Iのスタンダード)
Don't Be Afraid
Yarakai Heart (やらかいはぁと)
– Encore –
Mamore!!!
One Up!!!
Sayonara Matane Daisuki (さよなら・またね・だいすき)