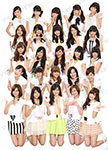 Tokyo Idol Festival 2013 feat. Idoling!!! (アイドリング!!!) will be released on Blu-ray on January 15.
As its title suggests, this Blu-ray includes the live performances and the various activities of Idoling!!! at Tokyo Idol Festival 2013. It features the announcement of the 5 new members.
The event was held on July 27-28 at Odaiba.
This item comes with a special sticker.