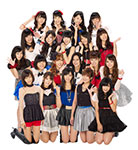 Idoling!!! (アイドリング!!!) is a Japanese idol group created by Fuji TV in October 2006. It currently consists of 25 members.
The members participate in various activities : singles, albums, DVD, live performances, TV shows, photobooks…
Their TV show Idoling!!! is airing several times a week on Fuji TV since October 2006. It is presented by Bakarythm (バカリズム) who is assisted by the female announcers Morimoto Sayaka (森本さやか) and Saito Maiko (斉藤舞子).
They received many guests in this TV program, including the following idol groups : AKB48, Passpo☆, Super☆Girls, Vanilla Beans, Fudanjuku, Sakura Gakuin, AeLL, The Possible…
In 2009, Idoling!!! had a collaboration with AKB48 as AKBIdoling!!!.
Profile
Idoling!!! (アイドリング!!!)
Years active : 2006 – present
Label : Pony Canyon
Agency : Fuji TV
Members
Endo Mai (遠藤舞) (3), leader
Tonooka Erica (外岡えりか) (6)
Yokoyama Rurika (横山ルリカ) (9)
Kawamura Yui (河村唯) (12)
Nagano Serina (長野せりな) (13)
Sakai Hitomi (酒井瞳) (14)
Asahi Nao (朝日奈央) (15)
Kikuchi Ami (菊地亜美) (16)
Miyake Hitomi (三宅ひとみ) (17)
Tachibana Yurika (橘ゆりか) (19)
Okawa Ai (大川藍) (20)
Hashimoto Kaede (橋本楓) (21)
Kurata Ruka (倉田瑠夏) (22)
Ito Yuna (伊藤祐奈) (23)
Goto Kaoru (後藤郁) (25)
Ojima Chika (尾島知佳) (26)
Takahashi Kurumi (高橋胡桃) (27)
Ishida Karen (石田佳蓮) (28)
Tamagawa Ramu (玉川来夢) (29)
Kiyoku Reia (清久レイア) (30)
Furuhashi Mayu (古橋舞悠) (31)
Sekiya Mayu (関谷真由) (32)
Hashimoto Ruka (橋本瑠果) (33)
Sato Rena (佐藤麗奈) (34)
Sato Michaela Shizuko (佐藤ミケーラ倭子) (35)
Former Members
Kobayashi Maia (小林麻衣愛) (10)
Koizumi Rumi (小泉瑠美) (2)
Kato Sayaka (加藤沙耶香) (1)
Eto Maria (江渡万里彩) (4)
Takiguchi Mira (滝口ミラ) (5)
Michelle Miki (ミシェル未来) (18)
Yazawa Erika (谷澤恵里香) (7)
Fonchi (フォンチー) (8)
Morita Suzuka (森田涼花) (11)
Nomoto Manami (野元愛) (24)
Discographie
Singles
11/07/2007 : Ganbare Otome (Warai) (ガンバレ乙女(笑))
23/01/2008 : Snow Celebration
16/07/2008 : Kokuhaku (告白)
19/11/2008 : "Shokugyou: Idol." (「職業:アイドル。」)
17/12/2008 : Hannin wa Anata Desu ♡ / NA・GA・RA (犯人はあなたです♡ / NA・GA・RA) (Furifuri Idoling!!! / Gizagiza Idoling!!!)
07/01/2009 : Beta na Shitsuren ~Shibuya ni Furu Yuki~ / Haruka Naru Virgin Road (ベタな失恋~渋谷に降る雪~ / 遥かなるバージンロード) (Kyunkyun Idoling!!! / Banban Idoling!!!)
29/04/2009 : Baby Blue
22/07/2009 : Mujouken ☆ Koufuku (無条件☆幸福)
02/12/2009 : Tenohira no Yuuki (手のひらの勇気) (Tokimeki Idoling!!!)
16/12/2009 : Love Magic ♡ Fever (ラブマジック♡フィーバー) (Puyopuyo Idoling!!!)
27/01/2010 : S.O.W. Sense of Wonder (S.O.W. センスオブワンダー)
09/06/2010 : Me ni wa Aoba Yama Hototogisu Hatsukoi (目には青葉山ほととぎす初恋)
04/08/2010 : Poolside Daisakusen (プールサイド大作戦)
23/11/2010 : Eve
02/03/2011 : Yarakai Heart (やらかいはぁと)
27/07/2011 : Don't Think. Feel!!!
18/01/2012 : Mamore!!!
08/08/2012 : One Up!!! / Ichigo Gyuunyuu (One Up!!! / 苺牛乳)
13/02/2013 : Sakura Thank You (さくらサンキュー)
07/08/2013 : Summer Lion (サマーライオン)
Other Singles
29/06/2007 : Ponkikki Medley 2007  (ポンキッキメドレー2007) (Gachapin Mukku & Idoling!!!)
01/04/2009 : AKBIdoling!!! – Chu Shiyouze! (チューしようぜ!) (AKB Idoling!!! – AKB48 & Idoling!!!)
05/08/2009 : Shoujo Fuantei (少女不安定) (Ito Ichiro & Idoling!!!)
Albums
27/02/2008 : Daiji na Mono (だいじなもの)
18/09/2009 : Petit-Petit
03/03/2010 : Sunrise (サンライズ)
16/03/2011 : Sisters
Links
News