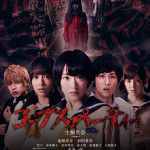 Ikoma Rina (Nogizaka46 / AKB48) will be starring in the horror movie Corpse Party (コープスパーティー).
The poster and the trailer have been released.
Legendary horror adventure game series with 15 years' legacy to be unleashed as live-action movie on August 1!
With console game and comic book sales reaching more than 100,000 and 1 billion respectively, and with forays into novelizations, original animes, and a drama CD (voice dramatization), horror adventure game "Corpse Party" will next be reimagined as a live-action film!
Taking on the lead role is Rina Ikoma of AKB48 and Nogizaka46 (the latter in which she has starred as the center member for the idol group's first five singles.). She will act as the charater Nakashima Naomi. Among the fresh-faced and high-energy cast are rising star Ryosuke Ikeoka, who debuted in 1/11 Jyuu Ichi Bun No Ichi and has performed onstage in Musical Tennis no Oujisama 2nd Season, and Nozomi Maeda, Popteen exclusive model and star of Real Onigokko 4, and TV drama Kami No Tsuki.
Ikoma Rina said : « This is the first time in my life I'll be starring in a movie! I don't have much acting experience, so I'm quite nervous. I wonder sometimes if I'm the best fit for the part, but I'm going to reach into my hidden talents and give my all for this once in a lifetime opportunity. I will do my personal best, and make this project a success! »
Horror veteran Masafumi Yamada, whose credits include the Hontouni Atta Kowai Hanashi series, Hitori Kakurenbo – Theater Version (2009), Toire no Hanako-san New Theater Version, takes the helm as director. The voice behind both the game and anime series, Asami Imai, will again lend her voice for the live action film theme song.
Corpse Party will premiere simultaneously in theaters and online via the DWANGO-operated Nico Nico Video "net cinema". The nationwide (Japan-wide) theatrical release is anticipated for the summer of 2015 premiering at Libre Ikebukuro Theater.
Filming began and was available to stream on Nico Nico Live Video since March 15, 2015
Don't miss out :
Live-stream the film shoot on Nico Nico Video
Corpse Party 3DS Game (5pb.) to be released concurrently with the theatrical and online movie premiere
Trailer