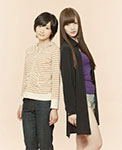 Ikoma Rina and Shiraishi Mai (Nogizaka46) will be starring in the movie Bad Boys J.
The film is a sequel of the drama of the same title which was aired between April and June on NTV (日本テレビ). Nogizaka46 members Hashimoto Nanami, Matsumura Sayuri, Akimoto Manatsu, Ito Marika, Ito Nene, and AKB48's Itano Tomomi appeared in the drama.
Shiraishi Mai is going to play the role of the girlfriend of Shigeoka Daiki (Johnny's Jr).
Ikoma Rina, who made a surprise appearance in the last episode of the series, will play a part-time employee falling in love with Iwamoto Hikaru (Snow Man).
Bad Boys J will be released in theaters on November 9 in Japan.