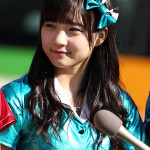 Inaba Manaka is going to suspend activities with Country Girls because of asthma.
She suffers from this disease since she is a child. Up-Front announced that Inaba Manaka's condition had recently worsened when she was performing with the idol group.
After some discussions with her family and a doctor, she decided to have a break in order to undergo medical treatment.
Inaba Manaka hasn't participated in any event with Country Girls since mid-April due to poor physical health. The fans started getting worried about that.
She will be absent from the Hello! Project 2016 Concert Tour.
We wish her a speedy recovery.