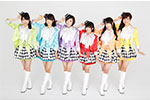 i☆Ris 1st Anniversary Live will be released on DVD on March 26.
The DVD includes 15 songs performed by i☆Ris at the live. As its title suggests, this event celebrated the 1st anniversary of the idol group. It has a total of 120-minute footage.
The concert was held on November 9, 2013 at Harajuku Astro Hall in Tokyo.
700 fans attended the event.
Setlist
Color
We Are! (ウィーア―!)
Ichizu (イチズ)
Ramune Sunset (らむねサンセット)
Saikou Para Parade (最強パレパレード)
Oja Majo Carnival!! (おジャ魔女カーニバル!!)
Edge of Heaven
Last Moment
Seikan Hikou (星間飛行)
Fantasia Wonderland (幻想曲Wonderland)
Susume Adventure (進めアバンチュール)
i☆Doloid
§Rainbow
– Encore –
Moshimo Mainichi ga Christmas Dattara (もしも毎日がクリスマスだったら)
Everybody Let's Go!