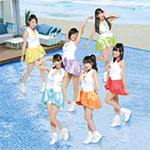 i☆Ris' 5th single Itazura Taiyou (徒太陽) will be released on June 18.
The MV has been unveiled.
Moreover, i☆Ris official application for Android and iPhone has been released.
Itazura Taiyou (徒太陽) and Happy New World ☆ are the theme songs for the anime and the trading card game Battle Spirits (バトルスピリッツ).
Furthermore, backstage footage of iRis Live Road to Step into the Rainbow has been posted.
Tracklist
Type A

CD

Itazura Taiyou (徒太陽)
Happy New World ☆
??
Itazura Taiyou (徒太陽) (Instrumental)
Happy New World ☆ (Instrumental)
?? (Instrumental)
Type B

CD

Itazura Taiyou (徒太陽)
Happy New World ☆
Itazura Taiyou (徒太陽) (Instrumental)
Happy New World ☆ (Instrumental)

DVD

Itazura Taiyou (徒太陽) (Music Video)
Itazura Taiyou (徒太陽) (Off Shot Movie)
Music Video (PV)
i☆Ris Road to Step into the Rainbow