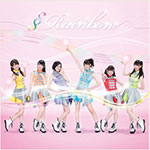 i☆Ris' new single Rainbow will be released on August 21.
This is the 3rd single from i☆Ris. The title is pronounced "section rainbow".
It is the ending theme song for the anime series Pretty Rhythm Rainbow Live (プリティーリズム・レインボーライブ).
Check out the MV.
The Type A and B editions come with a DVD featuring the music video and bonus footage.
The type C edition includes a bonus track.
Moreover, i☆Ris 1st Anniversary Live will be held on November 9 at Harajuku Astro Hall in Tokyo.
Tracklist
Type A
CD

§Rainbow
Susume Adventure (進めアバンチュール)
§Rainbow (Instrumental)
Susume Adventure (進めアバンチュール) (Instrumental)
DVD

§Rainbow (Music Video)
§Rainbow (1-Shot Ver.)
§Rainbow (Off Shot Movie, Jacket&Recording Ver.)
Type B
CD

§Rainbow
Susume Adventure (進めアバンチュール)
§Rainbow (Instrumental)
Susume Adventure (進めアバンチュール) (Instrumental)
DVD

§Rainbow (Music Video)
§Rainbow (6-Shot Ver.)
§Rainbow (Off Shot Movie, Music Video Ver.)
Type C
CD

§Rainbow
Susume Adventure (進めアバンチュール)
§Rainbow (Instrumental)
Susume Adventure (進めアバンチュール) (Instrumental)
Music Video (TV Edit)