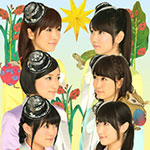 i☆Ris' 4th single Wonderland will be released on November 20.
This single celebrates the 1st anniversary of i☆Ris.
The MV has been unveiled.
The coupling track Last Moment, performed by Wakai Yuki, is the ending theme song for the anime Gifuu Doudou!! (義風堂々!!).
Edge of Heaven, performed by Shibuya Azuki, is the opening theme song for the Nintendo 3DS video game Metal Max 4 ~Moonlight Diva~ (メタルマックス4~月光のディーヴァ ~).
The Type A and B editions come with a DVD featuring the music video and other bonus footage.
The Type C edition includes a bonus track.
Moreover, i☆Ris 1st Anniversary Live -Thank You All- will be held on November 9 at Harajuku Astro Hall in Tokyo.
You can also read our interview with the members of iRis.
Tracklist
Type A

CD

Fantasia Wonderland (幻想曲Wonderland)
Last Moment
Edge of Heaven
Fantasia Wonderland (幻想曲Wonderland) (Instrumental)
Last Moment (Instrumental)
Edge of Heaven (Instrumental)

DVD

Fantasia Wonderland (幻想曲Wonderland) (Music Video)
Fantasia Wonderland (幻想曲Wonderland) (Off Shot Movie 1)
Type B

CD

Last Moment
Fantasia Wonderland (幻想曲Wonderland)
Edge of Heaven
Last Moment (Instrumental)
Fantasia Wonderland (幻想曲Wonderland) (Instrumental)
Edge of Heaven (Instrumental)

DVD

Fantasia Wonderland (幻想曲Wonderland) (Music Video)
Fantasia Wonderland (幻想曲Wonderland) (Off Shot Movie 2)
Type C

CD

Fantasia Wonderland (幻想曲Wonderland)
Last Moment
Edge of Heaven
Moshimo Mainichi ga Christmas Dattara (もしも毎日がクリスマスだったら)
Fantasia Wonderland (幻想曲Wonderland) (Instrumental)
Last Moment (Instrumental)
Edge of Heaven (Instrumental)
Moshimo Mainichi ga Christmas Dattara (もしも毎日がクリスマスだったら) (Instrumental)
Music Video (PV)