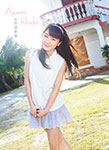 Ishida Ayumi's solo DVD Ayumi in Guam will be released on August 14.
As its title suggests, the filming was done in Guam. The includes various scenes highlighting Ishida Ayumi, including some in swimsuit.
In addition, the 1st photobook of the 10th generation member of Morning Musume, titled Ishida Ayumi (石田亜佑美), is on sale since July 15.