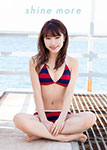 Ishida Ayumi's new photobook Shine More will be released on May 10.
It is the 2nd photobook of Morning Musume '14 member Ishida Ayumi.
The photo shooting was done at her home and on the island of Okinawa. The photobook includes pictures of Ishida Ayumi relaxing at home on a day off, wearing swimsuit on the beach, showing her smiling face in the nature…
The 10th generation member of Morning Musume '14 brings the freshness of a 17-year-old girl.
Shine More comes with a bonus DVD featuring making-of footage.
It is published by Wani Books (ワニブックス).