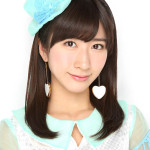 Ishida Haruka announced her graduation from AKB48.
Harukyan told that she had decided to leave the idol group in order to realize her dream of becoming a voice actress (seiyu).
The date of her graduation live hasn't been determined yet.
Ishida Haruka joined AKB48 as a 5th generation member in 2008. She is currently part of Team K. She is 22 years old.