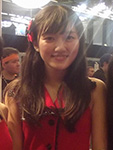 Orange Port, a local idol group from Shizuoka East area, participated in Japan Expo in Paris Nord Villepinte, France, on July 2-6.
During the 5 days of the festival, the members held several live performances and met their fans at the Orange Port Café.
Check out our interview with Ishida Yuyu.
Could you introduce your unit ?
Ishida Yuyu : We are Orange Port, an idol group from Shizuoka East area.
Your latest single With U / Yell has been released in February. Could you give us some details on this CD ?
Yell is a song which can give pleasure to everybody. We hope that it can bring happiness, courage, and hope to those who listen to it.
Orange Port was formed 2 years ago in August 2012. What memories do you have ?
Since 2012, the members changed, new girls arrived… but I still keep the original members in my mind.
What are your plans and your goals for the future ?
We debuted as a local idol group. Our goal is to promote the city of Numazu. A few people know about this place, but it's changing thanks to Orange Port.
How is Numazu ?
There are very tasty oranges, very tasty fish, and very good green tea. The fish is delicious in Japan, but even more in our city.
What are your feelings about Japan Expo and France ?
At the beginning, I was a little afraid as the culture is totally different. But French people are nice. They are often smiling when I meet them, that surprised me. I was really happy.
Do you have a message for your fans ?
Thanks for coming at Japan Expo. We will keep on doing our best. Please continue to support us !
Thanks to the members of Orange Port and their staff.