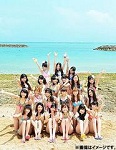 Idoling!!!'s blu-ray Ishigaki Idoling!!! Gravure Idol no Blu-ray Ppoku Shitemimashitang!!! Kimi to Ita Natsu (石垣アイドリング!!! グラビアアイドルのBlu-rayっぽくしてみましたング!!! 君といた夏) will be released on November 21.
The blu-ray includes 2 discs featuring video footage of Idoling!!! members in swimsuits, private shots, games, and more. It comes with a booklet.
The filming was done in Ishigaki Island in Okinawa prefecture.
The photobook Idoling!!! Swimsuit Photobook in Ishigaki-jima ~Idoling!!! Go Go~ was released on October 19.