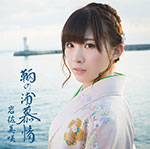 Iwasa Misaki's new single Tomo no Ura Bojou (鞆の浦慕情) will be released on January 8.
This is the 3rd solo single of Iwasa Misaki. She is a member of AKB48 Team B and a enka singer.
The coupling track is the enka version of AKB48's hit song Koi Suru Fortune Cookie (恋するフォーチュンクッキー).
Tomo no Ura Bojou (鞆の浦慕情) is inspired by local songs from Hiroshima and Fukuyama and the atmosphere of movies like Ponyo on the Cliff by the Sea (崖の上のポニョ). The lyrics were written by the producer Akimoto Yasushi.
The music videos of Tomo no Ura Bojou and the enka version of
Koi Suru Fortune Cookie by Iwasa Misaki have been released.

The regular edition includes a bonus track.
The limited edition comes with a DVD featuring the music video and making-of footage.
In addition, Iwasa Misaki's 1st solo album Request Covers (リクエスト・カバーズ) is on sale since November 6.
Regular Edition
CD

Tomo no Ura Bojou (鞆の浦慕情)
Koi Suru Fortune Cookie (恋するフォーチュンクッキー) (Enka Version)
Akai Sweet Pea (赤いスイートピー)
Tomo no Ura Bojou (鞆の浦慕情) (Instrumental)
Koi Suru Fortune Cookie (恋するフォーチュンクッキー) (Instrumental)
Akai Sweet Pea (赤いスイートピー) (Instrumental)
Limited Edition
CD

Tomo no Ura Bojou (鞆の浦慕情)
Koi Suru Fortune Cookie (恋するフォーチュンクッキー) (Enka Version)
Tomo no Ura Bojou (鞆の浦慕情) (Instrumental)
Koi Suru Fortune Cookie (恋するフォーチュンクッキー) (Instrumental)
DVD

Tomo no Ura Bojou (鞆の浦慕情) (Music Video)
Koi Suru Fortune Cookie (恋するフォーチュンクッキー) (Enka Version) (Bonus Footage)
Tomo no Ura Bojou (鞆の浦慕情) (Making-of)
Music Video (PV)