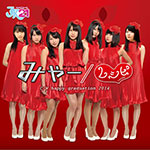 JK21's new single Mya / Recipe (みゃー / レシピ) will be released on April 30.
This is the 4th single from JK21. It is a double A-side.
Mya is the theme song for the variety show Lucky Tripper Idol on the Run (ラッキートリッパー idol オン・ザ・ラン) airing on KTV.
The lyrics were written by Shu. The music was composed by Komatsu Kensuke and arranged by Matsuda Junichi.
2 editions are available. The CD contains 3 songs.
The limited edition includes a DVD with the music video and bonus footage.
Tracklist
CD

Mya (みゃー)
Recipe (レシピ)
Happy Graduation 2014
DVD

Mya (みゃー) (Music Video)
Happy Graduation 2014 (Dance Lesson)