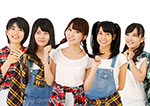 JK21 is a Japanese idol group formed in 2008.
It currently consists of 6 members.
Biography / History
The idol unit is based in Kansai area.
The name of the group, JK21, is an accronym for "Japan Kansai 21st Century". It is pronounced "JK two one" (ジェイケイ・トゥーワン).
Act-21 held audition in April 2008. 8 girls were selected as 1st generation members.
5 new girls quickly joined them as 2nd generation members in August 2008.
JK21 released their indies debut single Hana Fubuki Honey Chips (花吹雪ハニーチップス) in September 2008.
The idol unit made its major debut in December 2010 with the single I Ai Kansai (I 愛 Kansai) produced under the label Teichiku Record.
Their first radio show JK21 Anything Goes started broadcasting on Kiss-FM Kobe in April 2009.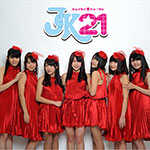 After the graduation of the former leader Jojima Yukari in June 2012, none of the 1st generation members was remaining in the idol group.
Yokomine Rinon and Kawasumi Yui from Lucky Mates joined the unit in May 2013.
JK21 hold regular live performances at Atelier Club (アトリエクラブ) in Osaka.
Once a month, the idol unit also hold a live performance titled JK21 Yanen (JK21やねん) in Tokyo.
They signed under Victor Entertainment's label VersionMusic in September 2014.
Profile
JK21 (ジェイケイ・トゥーワン)
Years active : 2008 – present
Label : VersionMusic
Agency : Act-21
Members
Tanaka Rina (田中梨奈)
Yokomine Rinon (横峯りのん)
Maeda Rin (前田鈴)
Azuma Ayane (東彩音)
Hasegawa Hina (長谷川ひな)
Kiyama Kanon (木山叶望)
Former Members
Tsubaki Minami (椿みなみ)
Mizuno Kanna (水野神菜)
Suzuki Rino (須々木梨乃)
Ezaki Yuki (江咲有姫)
Anzai Taka (安斎仰)
Fujikawa Maria (藤川真莉亜)
Nishimori Aimi (西森愛美)
Hinata Runa (日向瑠菜)
Shuko (柊子)
Morisaki Saaya (森崎さあや)
Aihara Kaede (相原かえで)
Taniguchi Sachiyo (谷口紗知代)
Suda Kotoko (須田琴子)
Kawaguchi Arisa (川口有砂)
Miyuki
Wakizawa Haruna (脇坂春菜)
Tsukiwaki Yumi (月脇夕実)
Jojima Yukari (城島ゆかり)
Matsuda Ayumi (松田歩実)
Aoi Misaki (碧みさき)
Ogasawara Yuko (小笠原裕子)
Takeuchi Akari (竹内星)
Kawasumi Yui (川澄由依)
Miyashige Eri (宮繁恵梨)
Yoshida Keika (吉田桂華)
Arakaki Momona (新垣桃菜)
Discography
Singles
10/09/2008 : Hana Fubuki Honey Chips (花吹雪ハニーチップス)
22/11/2008 : Win! Win! Tigers (Win! Win! タイガース)
15/12/2010 : I Ai Kansai (I 愛 Kansai)
20/04/2011 : Koi no Kiseki (恋のキセキ)
05/10/2011 : Namidame Peace Sign (涙目ピースサイン)
21/03/2012 : Nanairo Real (七色リアル)
30/04/2014 : Mya / Reciper (みゃー / レシピ)
24/12/2014 : After School (アフタースクール)
Albums
23/12/2009 : Chaunen. (ちゃうねん。)
14/12/2011 : JK21 Yanen (JK21やねん)
30/07/2013 : Lucky Tripper ~Sorezore no Natsu~ (Lucky Tripper ~それぞれの夏~)
Links
News