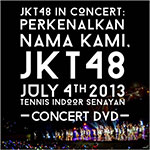 JKT48 in Concert : Perkenalkan Nama Kami, JKT48 was released on DVD on December 7.
The concert was recorded on July 4, 2013 at Tennis Indoor Senayan in Jakarta.
This DVD includes the 23 songs performed by JKT48 at the live performance.
It comes with a bonus ticket allowing to take a 2-shot photo with the member of your choice at JKT48 Theater.
Setlist
Overture
JKT Sanjou! [JKT Datang!]
Ponytail to Chou-chou [Ponytail Dan Shu-shu]
Aitakatta [Ingin Bertemu]
Pajama Drive
Temodemo no Namida [Air Mata Perasaan Yang Tak Tersampaikan]
Himawari [Bunga Matahari]
Itoshisa no Defense [Pertahanan Akan Cinta]
Manatsu no Christmas Rose [Mawar Natal Musim Panas]
Futari Nori no Jitensha [Bersepeda Berdua]
109
Run Run Run
Kimi no Koto ga Suki Dakara [Karena Kusuka Dirimu]
Yuuhi wo Miteiruka? [Apakah Kau Melihat Mentari Senja?]
River
1! 2! 3! 4! Yoroshiku!
Viva! Hurricane
Gomenne, Summer [Maafkan, Summer]
Oogoe Diamond [Teriakan Diamond]
Bingo!
Baby! Baby! Baby!
– Encore –
JKT48
Hikoukigumo [Jejak Awan Pesawat]
Heavy Rotation