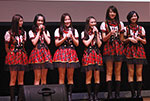 6 members of JKT48 Team J participated in the "Gala Dinner" held by WakuWaku Japan in Soehanna Hall, Jakarta, on February 14.
Melody Nurramdhani, Haruka Nakagawa, Ayana Shahab, Jessica Vania, Shania Junianatha, Ghaida Farisya appeared on stage to give a speech on WakuWaku Japan grand launching. During this event, the idols have also unveiled the new TV CM made for Sky Perfect JSAT Corporation.
Check out some photos of the event.
WakuWaku Japan is an entertainment channel bringing Japanese programs in the local language.
The TV CM featuring JKT48 will be broadcast on several TV channels in Indonesia, including RCTI which is the medium with the highest audience rating in the country.
In the TV CM, JKT48 is the link between Indonesia and Japan. Sky Perfect JSAT Corporationis planning to start airing the commercial advertisement on February 19, 2014 in order to attract the attention of 60% of the Indonesian audience. La video will appear exactly 3 days before the broadcast premiere of WakuWaku Japan.
400 spots will air on local TV channels during 3 weeks. They have a duration of 15 and 30 seconds. The soundtrack is JKT48's Flying Get.
JKT48 and Flumpool participated in the launch event.