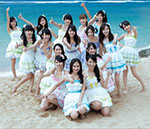 JKT48 is an Indonesian idol group formed in November 2011 and produced by Akimoto Yasushi.
JKT48 is the 1st sister group of AKB48 outside Japan. JKT is an accronym for Jakarta, Indonesia, where the unit is based.
They hold live performances daily at JKT48 Theater located in the fX Sudirman shopping mall in Jakarta. It has a capacity of 210 people.
They perform songs by AKB48 translated into Indonesian.
The group is divided into Team J, Team KIII, and Kenkyuusei (trainees).
Nozawa Rena, Takajo Aki, and Nakagawa Haruka are Japanese. They are also either current or former members of AKB48.
The 1st generation members passed the audition in September and October 2011.
JKT48 held some live performances in Japan alongside AKB48 and other sister groups (SKE48, NMB48, HKT48).
They made their major debut in February 2013 with the album Heavy Rotation.
Profile
JKT48
Years active : 2011 – present
Label : –
Agency : Dentsu Media Group Indonesia
Members
Team J
Ayana Shahab
Beby Chaesara Anadila
Cindy Gulla
Delima Rizky
Devi Kinal Putri, captain
Frieska Anastasia Laksani
Gabriela Margareth Warouw
Ghaida Farisya
Jessica Vania
Jessica Veranda
Melody Nurramdhani Laksani
Nabilah Ratna Ayu Azalia
Rezky Wiranti Dhike
Rica Leyona
Sendy Ariani
Shania Junianatha
Sonia Natalia
Nozawa Rena (野澤玲奈) (AKB48)
Takajo Aki (高城亜樹) (AKB48)
Nakagawa Haruka (仲川遥香) (AKB48)
Team KIII
Alicia Chanzia
Cindy Yuvia
Della Delila
Dwi Putri Bonita
Jennifer Hanna
Lidya Maulida Djuhandar
Nadila Cindi Wantari
Natalia
Noella Sisterina
Octi Sevpin
Ratu Vienny Fitrilya
Riskha Fairunissa
Rona Anggreani
Shinta Naomi
Sinka Juliani
Thalia
Viviyona Apriani
Kenkyuusei
Dena Siti Rohyati
Fakhiryani Shafariyanti
Jennifer Rachel Natasya
Novinta Dhini
Priscillia Sari Dewi
Saktia Oktapyani
Thalia Ivanka Elizabeth
Former Members
Alissa Galliamova
Intar Putri Kariina
Diasta Priswarini
Sonya Pandarmawan
Stella Cornelia
Former Kenkyuusei
Intania Pratama Ilham
Siti Gayatri
Allisa Astri
Fahira Al-Idrus
Neneng Rosediana
Cleopatra
Althea Callista
Nurhalima Oktavianti
Nadhifa Karimah
Olivia Robberecht
Annisa Athia
Dellia Erdita
Discography
Singles
17/05/2013 : River
03/07/2013 : Yuuhi wo Miteiruka? – Apakah Kau Melihat Mentari Senja?
21/08/2013 : Fortune Cookie in Love – Fortune Cookie Yang Mencinta
26/11/2013 : Manatsu no Sounds Good! – Musim Panas Sounds Good!
Albums
16/02/2013 : Heavy Rotation
Links
News