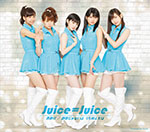 Juice=Juice's new single Senobi / Date Ja Nai yo Uchi no Jinsei wa (背伸び / 伊達じゃないよ うちの人生は) will be released on October 1st.
This is the 5th single from Juice=Juice. It is a double A-side.
Check out the MV with English and Japanese subtitles and the dance-shot version.
The lyrics of both songs were written by Tsunku♂. Hello! Project producer also composed the music.
The limited editions come with a bonus DVD and a lottery ticket for a handshake event.
Furthermore, the members of Juice=Juice will be starring in Musical Koi Suru Hello Kitty (ミュージカル 恋するハローキティ). The musical is going to run on November 19-24 at Kinokunya Southern Theater.
Tracklist
Type A & C

CD

Senobi (背伸び)
Date Ja Nai yo Uchi no Jinsei wa (伊達じゃないよ うちの人生は)
Senobi (Instrumental)
Date Ja Nai yo Uchi no Jinsei wa (Instrumental)

DVD (Type A)

Senobi (Music Video)

DVD (Type C)

Senobi (Dance Shot ver.)
Making-of
Type B & D

CD

Date Ja Nai yo Uchi no Jinsei wa (伊達じゃないよ うちの人生は)
Senobi
Date Ja Nai yo Uchi no Jinsei wa (Instrumental)
Senobi (Instrumental)

DVD (Type B)

Date Ja Nai yo Uchi no Jinsei wa (Music Video)

DVD (Type D)

Date Ja Nai yo Uchi no Jinsei wa (Dance Shot ver.)
Making-of
Music Video (PV)