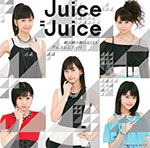 Juice=Juice's new single Hadaka no Hadaka no Hadaka no Kiss / Arekore Shitai (裸の裸の裸のkiss / アレコレしたい) will be released on March 19.
This is the 3rd single from Juice=Juice under major label.
Hadaka no Hadaka no Hadaka no Kiss is inspired by Latin music.
The MV have been released.
5 editions are available. The tracklist is the same for each one of them. It comes with an lottery ticket for a handshake event.
The limited editions include a bonus DVD with various versions of the MV and making-of footage.
Furthermore, Juice=Juice 1st Official Photobook is on sale since February 27.
Tracklist
CD

Hadaka no Hadaka no Hadaka no Kiss (裸の裸の裸のKiss)
Arekore Shitai! (アレコレしたい!)
Hadaka no Hadaka no Hadaka no Kiss (裸の裸の裸のKiss) (Instrumental)
Arekore Shitai! (アレコレしたい!) (Instrumental)
DVD (Type A)

Hadaka no Hadaka no Hadaka no Kiss (裸の裸の裸のKiss) (Music Video)
Hadaka no Hadaka no Hadaka no Kiss (裸の裸の裸のKiss) (Dance Shot ver.)
DVD (Type B)

Arekore Shitai! (アレコレしたい!) (Music Video)
Arekore Shitai! (アレコレしたい!) (Dance Shot ver.)
DVD (Type C)

Hadaka no Hadaka no Hadaka no Kiss (裸の裸の裸のKiss) (Close Up ver.)
Arekore Shitai! (アレコレしたい!) (Close Up ver.)
Music Video (PV)