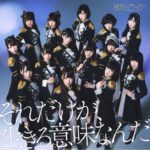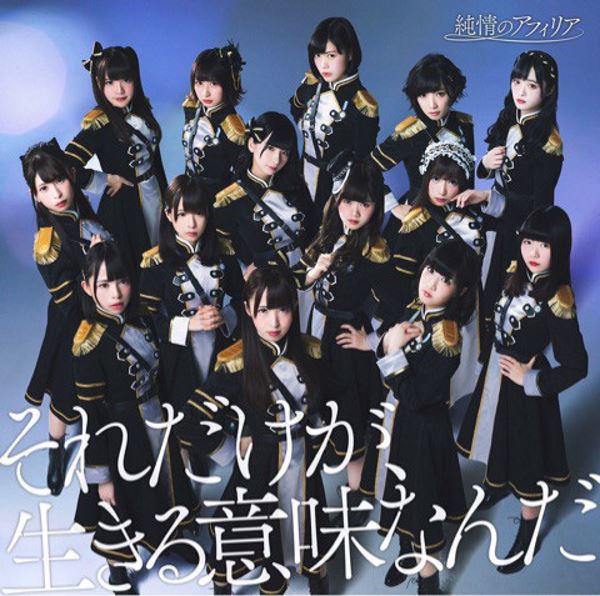 Junjou no Afilia's new single Sore Dake ga, Ikiru Imi Nanda (それだけが、生きる意味なんだ) will be released on March 28th.
This is the 21st single of the idol group ; it is also the 2nd single of the group, under its new name Junjou no Afilia, previously known as the Afilia Saga.
The single will be sold in 6 editions: 5 rated A, B, C, D and E ; and a limited one (CD+DVD).
Each CD will contain a different tracklist.
The DVD will contain the MV, images and bonus video.
Check out the MV below.
Tracklist
CD+DVD Edition

CD

Sore Dake ga, Ikiru Imi Nanda (それだけが、生きる意味なんだ)
Spell☆Of☆Love
Spiral Star
Sore Dake ga, Ikiru Imi Nanda (off vocal)
Spell☆Of☆Love (off vocal)
Spiral Star (off vocal)

DVD

Sore Dake ga, Ikiru Imi Nanda (Music Clip)
Sore Dake ga, Ikiru Imi Nanda (Music Clip Making picture)
Sore Dake ga, Ikiru Imi Nanda (high-quality mp4 video) / artist photo (individual & collect) / Music Clip off-shot photo
Type A & B

Sore Dake ga, Ikiru Imi Nanda (それだけが、生きる意味なんだ)
Spell☆Of☆Love
Sore Dake ga, Ikiru Imi Nanda (off vocal)
Spell☆Of☆Love (off vocal)
Type C & D

Sore Dake ga, Ikiru Imi Nanda (それだけが、生きる意味なんだ)
Spiral Star
Sore Dake ga, Ikiru Imi Nanda (off vocal)
Spiral Star (off vocal)
Type E

Sore Dake ga, Ikiru Imi Nanda (それだけが、生きる意味なんだ)
Sore Dake ga, Ikiru Imi Nanda (off vocal)
(Enhanced) Self-portrait photograph / CM data / wallpaper / Sore Dake ga, Ikiru Imi Nanda – High resolution (48 KHz 24 bit WAV)
Music Video (PV)