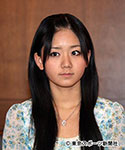 Former Morning Musume member Junjun announced her marriage on the Chinese micro-blogging service Weibo.
The 26-year-old woman revealed that she married Chinese music producer Zheng Nan in early November.
Junjun and Zheng Nan began dating in 2012.
Junjun was a 8th generation membre of Morning Musume. She joined the idol group with Linlin in 2007. They had passed the audition held in Beijing, China. Both girls had announced their graduation at the same time as Kamei Eri in late 2010.