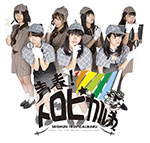 Kaiketsu! Tropical Maru (怪傑!トロピカル丸) is a Japanese idol group formed in January 2011. They are also known as KaiTro (怪トロ).
It currently consists of 8 members. Each one of them has been assigned a fruit and a color.
The girls are divided into 2 teams : Seishun! Tropical Maru (青春!トロピカル丸) and Junjou! Tropical Maru (純情!トロピカル丸).
The captain is Momokawa Haruka.
The idol group has for purpose to support agriculture, forestery, fishing and the water industry.
Biography / History

The idol group held its 1st live performance in November 2011 at Tokyo Ramen Show (東京ラーメンショー2011).
Their official blog was opened on the same month.
Kaiketsu! Tropical Maru released their debut single Tropical Kiss / Himawari (トロピカルキッス / ひまわり) in January 2012.
The idol group held its 1st live tour in June 2012 in Osaka and Hyogo Prefectures.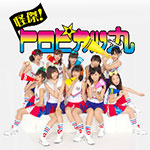 Their 1st one-man live took place in December 2012 at Omotesando Ground, Tokyo.
The 2 teams were created in March 2013.
Former leader Tanigaki Ayaka and Yamanaka Yuki graduated in October 2013.
Seishun! Tropical Maru made their debut with the single Nazo Darake Love×2Daring (謎だらけLove×2Daring) released in December 2013.
In September 2014, Momokawa Haruka appeared in the movie Alps Jogakuen (アルプス女学園) along with members from other idol groups.
Momokawa Haruka's solo DVD Momoiro Sunset (百色サンセット) went on sale in October 2014.
Profile
Kaiketsu! Tropical Maru (怪傑!トロピカル丸)
Years active : 2011 – present
Label : –
Agency : Shining Will
Members
Seishun! Tropical Maru (青春!トロピカル丸)
Yamaguchi Mizuki (山口水季) – Melon / Yellow-Green
Ishioka Mai (石岡真衣) – White Peach / White
Momokawa Haruka (百川晴香) – Orange / Orange
Kinoshita Hasuno (木下蓮乃) – Yellow
Nanami Koharu (七美こはる) – Green
Shimizu Saki (清水咲希) – Light Blue
Nakagawa Niina (中川新菜) – Red
Junjou! Tropical Maru (純情!トロピカル丸)
Matsushita Erika (松下恵里香) – Blueberry / Blue
Kono Yuria (幸野ゆりあ)
Former Members
Moriyama Erika (森山恵里花)
Tanigaki Ayana (谷垣綾南) – Strawberry / Red
Yamanaka Yuki (山中ゆき) – Pineapple / Yellow
Yokohama Riho (よこはまりほ)
Kaneno Miho (金野美穂) – Raspberry / Pink
Tatsumi Shiori (辰見栞) – Watermelon / Green
Juri Ai (珠莉愛) – Light Blue
Tachibana Miku (橘未来)
Discography
Singles
21/01/2012 : Tropical Kiss / Himawari (トロピカルキッス / ひまわり)
02/02/2012 : Here We Go? / Start
17/07/2013 : Chance no Kami-sama (チャンスの神様)
18/12/2013 : Nazo Darake Love×2Daring (謎だらけLove×2Daring)
26/03/2014 : Koi no S.O.S (恋のS.O.S)
Albums
Links
News